The core of our system is FltPlan.com, a free flight planning and filing website that covers the U.S., Canada, Mexico, the Caribbean, Central America, Panama, and parts of Venezuela and Colombia. Registering for an account is free and only takes a few minutes.
FltPlan has 26 years of flight planning and filing experience and is known for accurate flight times, fuel burn, and routing. FltPlan continues to evolve to meet the complex and changing needs of our users. Our services and products are backed with outstanding customer support, 24/7/365.
The Best Flight Planning System Begins with FltPlan.com
Free web-based flight planning
Certified weather
Airport & FBO Info
Up-to-date fuel prices for more than 4,500 FBOs
NavLogs
Map Builder for viewing routes, weather, and more
Nearby Airport Information
FBO Fax Briefings and Passenger Briefings
Quick flight info
Planned ATC routes & EDCTs with email notifications
Geo-referenced approach plates for the U.S. and Canada
Enroute/Sectional charts.
Aircraft performance information
Weight & Balance
eLogbook
Checklists
Account sharing of navlogs and weather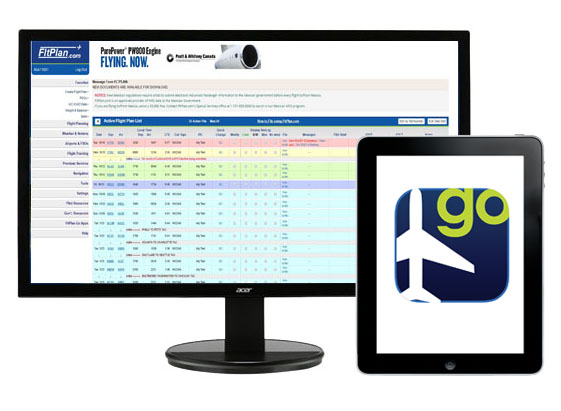 Create Your Free Account and Download the FltPlan Go Companion App
FltPlan's free EFB, FltPlan Go, for Apple and Android is a companion tool to the website.
FltPlan Go features include:
Breadcrumbs with enhanced playback
Multiple ADS-B device options
Howgozit tool for real time progress along your route
Inflight weather including SIGMETs, AIRMETs, METARs, and PIREPs
Jeppesen Mobile FD 2.7, Garmin Pilot, Dynon Skyview, and Avidyne IFD540 & IFD440 Integration
SIDs and STARs with transitions displayed on your route
Custom waypoints (including CSV, KMZ, and KML imports)
Course Deviation Indicator
and more!
FltPlan.com offers expert support, 24/7/365, through Support@FltPlan.com.