Newsletter - March 28th, 2012
---
Don't Delay: Vote in the 2012 Pilots' Choice Awards
Time is running out. There are only a few days left to vote in the 2012 Pilots' Choice Awards. Voting continues through Saturday March 31, 2012. Go to http://www.FltPlan.com to cast your ballot. Categories include Best FBO, Best Tower location, Best ATC Center and more. The winners will be announced online in April.
---
ADVERTISEMENT
---
And speaking of Pilots' Choice... Our Latest Android Enhancements
With over 60,000 downloads and a 4.5 STAR rating, the FltPlan.com Android app is the pilot's choice.


FltPlan.com is experiencing great success with our free Android App, and last week we announced some additions to it. In case you missed it, here's a recap.

FltPlan.com's latest addition to our Android App lets you view and automatically save your NavLog and FAA Certified QICP Weather for offline viewing. In the past, pilots have been emailing their FltPlan.com NavLog and Route weather to their Android, but with our latest feature, it is all accomplished with the push of a button.

If you are a daily user of our App you will notice we've updated the main screen with color icons and a blue sectional map for a background.



---
The Top Five Questions We Receive at FltPlan.com
We asked our support staff what recently have been their most asked questions. Here's what they said:

1. What happened to my /Q, it says /M or /L?
We talk about this a lot in FltBrief. Here's a link to one of the many articles.
http://flttrack.fltplan.com/fltbrief/May2011/fltbriefvol1.htm#4

2. Is our SMS seminar on April 24 in Southbury CT available as a webinar?
No, this is a live event. You must attend in person to be involved.

3. Can you file to/from an international airport?
FltPlan.com provides FULL flight planning coverage for all of the U.S. and most all airports in Canada, Mexico, Central America and the Caribbean. We also include the Bahamas & Bermuda in our database for full flight planning. First create a flight plan. If there is a box to check for filing in the "file this" column, then you can file a flight plan to/from that airport.

4. Can I get email/text notifications of my Planned ATC Routes?
Yes. Here's a previous article. http://flttrack.fltplan.com/fltbrief/February2011/fltbriefvol1.htm#1

5. Can I get my PDC (pre-departure clearance) on FltPlan.com or can it be emailed to me?
Yes, through Satcom Direct. For more information, Click Here.



---
SMS Seminar Coming, Live and in Person, to the Northeast
FltPlan.com is still taking registrations for a free educational event. FltPlan.com will be hosting an SMS Informational Seminar in partnership with ACSF (Air Charter Safety Foundation). This is a live event taking place in Southbury, CT on Tuesday April 24th, 2012. It will start promptly at 9 am and end at 4 pm ET. This SMS Seminar will provide helpful information in regard to the development and implementation of your company's SMS Program. Registration is required to attend.

To register Click Here. Each attendee is required to register separately. After receiving the registration form and being qualified as an SMS participant, further details will be provided via email.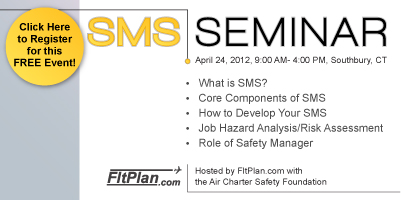 ---
Check Out Our Newest iPad Feature


In our latest iPad innovation, FltPlan.com makes it possible for you to doodle on your charts. We know that when you use paper charts, you mark them up. You might mark your route and highlight an altitude restriction on a STAR, or show a taxi route and mark an FBO on an airport diagram. Now, if you use an iPad, you can do the same thing on your electronic charts.

To access this feature go to the Scratch Pad + icon on the iPad home page.

Look for new, exciting features in the coming weeks and months.

---
Share Routes on iPad
Several weeks ago, FltPlan.com announced a new feature for sharing your NavLog and Weather across multiple accounts. Now, you can share the routes of other users on your iPad, for online and offline viewing. Just click on the 'Default Settings' link on the left side of the Main Menu page.


For more information, please see our previous FltBrief Newsletter:
http://flttrack.fltplan.com/fltbrief/February2012/fltbriefvol3.htm#1

---
FltPlan.com's Chart Store Preparing for Release of New Charts
Several charts offered by the FltPlan.com Chart Store expire on April 5th and will be replaced by new editions later this week. April 5th is quickly approaching, and FltPlan.com wants to remind its users to begin purchasing charts for the upcoming cycle.

The following charts will be replaced by new editions for April 5th:

All Airport/ Facility Directories

All Terminal Procedures/ Approach Plates

All High Altitude Enroute Charts

All Low Altitude Enroute Charts

Sectionals:
Detriot Juneau Ketchikan Klamath Falls Lake Huron Memphis Salt Lake City

Terminal Area Charts:
Cleveland Detroit Memphis Pittsburgh Salt Lake City

World Aeronautical Charts:
CF-19 CJ-27

You can begin placing orders for these the new cycle's charts as soon as Wednesday, March 28th. Please visit http://store.fltplan.com to view our inventory and complete your order online. Please note that recurring subscriptions are also available to all of our products. If you have any questions or would like additional information, please call us at 203-262-9200 or email us at Store@FltPlan.com.

---
FltPlan.com On Twitter
Follow us on Twitter for up-to-date information on busiest airports, most used aircraft, and more. www.twitter.com/FltPlan
---
Thanks for using FltPlan.com
all rights reserved © Copyright 1999-2012 by Flight Plan LLC