Newsletter - March 21st, 2012
---
New for the Android
FltPlan.com's latest addition to our Android App lets you view and automatically save your NavLog and FAA Certified QICP Weather for offline viewing. In the past, pilots have been emailing their FltPlan.com NavLog and Route weather to their Android, but with our latest feature, it is all accomplished with the push of a button.

The FltPlan.com Android App is a companion tool to the FltPlan.com website. You can log in from a variety of sources, including your Android's browser, smartphone, laptop, or desktop. This makes it easy to transfer your flight plan routes, NavLogs, and Weather briefing to your Android device for offline viewing.


The App will use the information stored in the "Log-in to FltPlan.com" section as the default Username and password. You'll be asked to enter the information if need be. Then it's just the simple process of connecting and viewing your Active Flight Plan List and choosing what flight plans and information you wish to download. You can choose the Select All button to quickly download all available flight plans.

If you are a daily user of our App you will notice we've updated the main screen with color icons and a blue sectional map for a background.
---
And More for Android Users:
Share your NavLogs and Weather
Last month we announced that iPad users could share their NavLog and Weather with other users. Now Android users have the same option. FltPlan.com lets others (that you have authorized) view your NavLog, Wind Matrix and Weather briefings even if you use different account usernames. This is a great tool for operations where pilots use Androids in the cockpit, but have separate FltPlan.com accounts. Access is restricted to just viewing the NavLog and Weather. Your account and flight plan data is protected from changes by other users.

Both pilots must 'opt in' using their respective accounts in the Default Settings page (left side of Main Menu page).

For those with large flight departments, FltPlan.com lets you include up to 20 FltPlan.com usernames that can be selected on/off, so usernames do not need to be re-entered.

Once this is done, a pilot will be able to choose from the current and future flight plans of the other pilot for viewing on their Droid for both online and offline viewing.

Keep checking the FltPlan.com FltBrief Newsletter for new enhancements.

---
ADVERTISEMENT
---
It's Not Too Late: Vote in the 2012 Pilots' Choice Awards
Don't delay; time is running out to vote in the 2012 Pilots' Choice Awards. Voting continues through March 31, 2012. Go to www.FltPlan.com to cast your ballot. Categories include Best FBO, Best Tower location, Best ATC Center and more. The winners will be announced online in April.

---
Our Weight and Balance Calculator Now Includes Turboprops


This month we expanded our Weight and Balance collection with our new turboprop feature. This feature not only provides a standard Weight and Balance template for pilots to use but we also have the capability to enter in a variable fuel arm. Since Weight and Balance can be a tedious task for you pilots, we plan to make Weight and Balance a possibility for aircraft of all single & multiengine pistons and single & multiengine turboprops. We just recently added a Cessna 425 Conquest I, Piaggo P180 Avanti, King Air F90 and are planning to add many more. If you would like to have your aircraft included in our diverse collection of aircraft models please email Courtney@FltPlan.com.

---
FltPlan.com's Chart Store Now Offering FAA Digital Products
FltPlan.com's Chart Store continues to experience growth and success. As always, The Chart Store offers charts 20% off the list price. The Chart Store offers current charts as well as recurring subscriptions.

FltPlan.com is pleased to announce that Digital Terminal Procedures/Approach Plates, Digital Sectional Charts and Digital Enroute Charts are now available for purchase at our Chart Store. The Coded Instrument Flight Procedures are also now available on a subscription only basis.

In print form, we offer Airport/Facility Directories, Terminal Procedures/Approach Plates, High Altitude Enroute Charts, Low Altitude Enroute Charts, Sectional Charts, Terminal Area Charts, VFR Helicopter Charts, World Aeronautical Charts, Mexican WAC Charts and more.

To order current charts, please visit http://store.fltplan.com to complete your purchase online.

To purchase a recurring subscription to our products, please call the Chart Store at 203-262-9200.

For more general inquiries about our Chart Store, please email Store@FltPlan.com.



---
SMS Seminar Coming, Live and in Person, to the Northeast
FltPlan.com is still taking registrations for a free educational event. FltPlan.com will be hosting an SMS Informational Seminar in partnership with ACSF (Air Charter Safety Foundation). This is a live event taking place in Southbury, CT on Tuesday April 24th, 2012. It will start promptly at 9 am and end at 4 pm ET. This SMS Seminar will provide helpful information in regard to the development and implementation of your company's SMS Program. Registration is required to attend.

To register Click Here. Each attendee is required to register separately. After receiving the registration form and being qualified as an SMS participant, further details will be provided via email.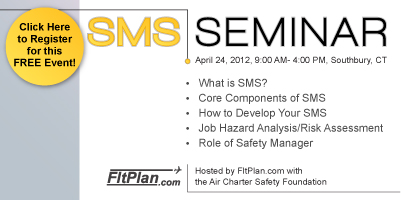 ---
FltPlan.com On Twitter
Follow us on Twitter for up-to-date information on busiest airports, most used aircraft, and more. www.twitter.com/FltPlan
---
Thanks for using FltPlan.com
all rights reserved © Copyright 1999-2012 by Flight Plan LLC