Newsletter - March 7th, 2012
---
FltDeck Guide is Now Incorporated with the iPad App
FltPlan.com has now integrated our popular FltDeck Guide with our iPad App.

The FltDeck Guide is available for online or offline viewing. This is a full featured way of having all the airport information you need available at your fingertips. You can get everything from FBO information to airport diagrams. Other helpful features include a link to the airport's A/FD; runway information (including length, width, and lighting); approach information, with the various approaches listed; nearby airports, with direction and distance; and nearby alternate airports that link directly to that airport's information.
Click the images above to view fullsize.
Unlike the bulky guide books that come out once a year, the FltPlan.com FltDeck Guide is updated twice monthly, so you always have the most current information.
And our Android users shouldn't feel left out: The FltDeck Guide has been available on the Android App for the last month.

---
Now Share NavLogs and Weather on your Computer
Last week we announced that you could share your NavLog and Weather on your iPad. Now FltPlan.com lets others (that you have authorized) view your NavLog, Wind Matrix and Weather briefings on their desktop or laptop computer -- even if you use different account usernames. This is a great tool for operations where pilots need to share information, but have separate FltPlan.com accounts. Access is restricted to viewing the NavLog and Weather. Your account and flight plan data are protected from changes by other users.

Flight plans can be viewed from the Multi-Printout page, on the left side of the Main Menu page.
Both pilots must 'opt in' using their respective accounts in the Default Settings page (also on the left side of the Main Menu page).
For those with large flight departments, FltPlan.com lets you include up to 20 FltPlan.com usernames that can be selected on/off, so usernames do not need to be re-entered.
We will continue to provide our users with helpful new features. Keep reading FltBrief to stay up to date.

---
ADVERTISEMENT
---
SMS Seminar Coming to the Northeast
FltPlan.com, in partnership with ACSF (Air Charter Safety Foundation), is hosting a free SMS educational event for corporate and charter flight departments. This is a live event taking place in Southbury, CT on Tuesday April 24th, 2012. It will start promptly at 9 am and end at 4 pm ET. This SMS Seminar will provide helpful information in regard to the development and implementation of your company's SMS Program. Registration is required to attend.
Don't miss out on an event that will help 'clear the air' on SMS, and have you leaving with a much better understanding of what SMS is, how to develop it, and how to incorporate it into your operations.

To register Click Here. Each Pilot/attendee is required to register separately. After receiving the registration form and being qualified as an SMS participant, further details will be provided via email.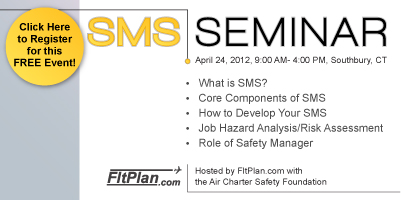 ---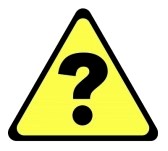 Don't Let Precious Minutes Be Wasted in an Emergency:
Keep your contact information up to date
Every once in awhile, we find it necessary to contact a pilot. There might be an emergency, a problem with your flight plan, or a question of your whereabouts.

For instance:
On occasions, FltPlan.com will get a call from ATC looking for an aircraft that is 'over-due' usually because the pilot did not cancel their IFR flight plan going into an uncontrolled airport. If we have a cell phone number listed next to the PIC/Co-Pilot names, FltPlan.com will attempt to call you. This can be an easy resolution that avoids the initiation of Search and Rescue. (and a call from the FAA the next day)

Make sure there is a phone number and a cell phone number for each PIC in the account. This is the primary number we will attempt to reach the pilots at (either Captain or Co-pilot). Just having the account holder's information is not sufficient, should someone else be flying the plane. To keep your contact information current, go to the "User/PIC Info" link on the left side of the Main Menu page of FltPlan.com. We find it works best if you put your cell phone number in the first slot so that we have a better chance of finding you when you are away from home. We will also check emergency contact info in your ICAO data for your aircraft.

Rest assured, we will not sell your phone number or use it for any other purposes than those related to filing your flight plans.

---
Did You Know?
FltPlan.com offers an enhanced premium version
FltPlan.com has a premium version of our flight planning site, which offers up to 100 flight plans in one account for $25 per month or 200 flight plans for $50 per month. In addition, this version gives you up to 30 PICs, 20 aircraft, plus extra email slots for the passenger briefing section. There is no long term commitment, and you can cancel at any time.

For more details, please email us at Support@FltPlan.com.

---
FltPlan.com On Twitter
Follow us on Twitter for up-to-date information on busiest airports, most used aircraft, and more. www.twitter.com/FltPlan
---
Thanks for using FltPlan.com
all rights reserved © Copyright 1999-2012 by Flight Plan LLC