Newsletter - February 29th, 2012
---
Share Your NavLogs and Weather with Fellow iPad Users.
FltPlan.com now lets others (that you have authorized) view your NavLog, Wind Matrix and Weather briefings even if you use different account usernames. This is a great tool for operations where pilots use iPads in the cockpit, but have separate FltPlan.com accounts.
Access is restricted to just viewing the NavLog and Weather, and your account and flight plan data is protected from changes by other users.

Both pilots must 'opt in' using their respective accounts in the Default Settings page (left side of Main Menu page).

For those with large flight departments, FltPlan.com lets you include up to 20 FltPlan.com usernames that can be selected on/off, so usernames do not need to be re-entered.

Once this is done, a pilot will be able to choose from the current and future flight plans of the other pilot for viewing on their iPad for both on-line and off-line viewing (see: http://flttrack.fltplan.com/fltbrief/July2011/fltbriefvol2.htm#1).
This is another new feature with many more on the way over the coming weeks and months. Keep checking the FltPlan.com FltBrief Newsletter for these new enhancements.

---
SMS Seminar Coming to Connecticut
FltPlan.com is still taking registrations for a free educational event. FltPlan.com will be hosting an SMS Informational Seminar in partnership with ACSF (Air Charter Safety Foundation). This is a live event taking place in Southbury, CT on Tuesday April 24th, 2012. It will start promptly at 9 am and end at 4 pm ET. This SMS Seminar will provide helpful information in regard to the development and implementation of your company's SMS Program. Registration is required to attend.

To register Click Here. Each Pilot/attendee is required to register separately. After receiving the registration form and being qualified as an SMS participant, further details will be provided via email.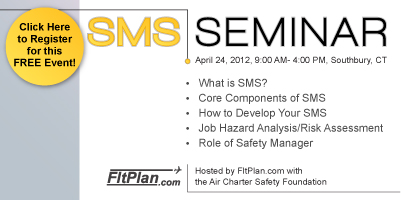 ---
ADVERTISEMENT FltPlan.com's Chart Store Now Offering Mexican WAC Charts
FltPlan.com's Chart Store has now been open for almost a month and is already experiencing some fantastic growth. The Chart Store is now pleased to be offering Mexican WAC Charts, available for 20% off the list price.

To order current charts, please visit http://store.fltplan.com to complete your order online. If you're interested in purchasing a subscription to our products, please call us at 203-262-9200 or email us at Store@FltPlan.com.



---
Enroute Chart Improvement for U.S. / Canadian Border Transitions
FltPlan.com now lets the pilot select between Canadian (Nav Canada) or U.S. (FAA) High and Low Altitude airway charts for areas that overlap. The charts will default to Nav Canada airway charts for flights out of Canada and default to FAA charts for flight from the U.S. Either way, the pilot can easily select the charts of their choosing by using the Primary U.S. or Primary Canada drop down box.

Please remember that when viewing flight areas in Canada, pilots should use the Nav Canada charts, since these will have the most comprehensive and up-to-date information. Conversely when viewing areas in the U.S., pilots should use the FAA charts.

| | |
| --- | --- |
| KSYR to CYOW with FAA Charts Primary | KSYR to CYOW with Nav Canada Charts Primary |

Enroute charts can be accessed from the top area of the NavLog or from the Charts & Maps link on the left side of the Main Menu page.

And speaking of Canada...
For those pilots that will be flying in the busy Toronto-Quebec City Corridor, there have been major changes to the airway structure in this area.
Please see our previous FltBrief Newsletter for more information http://flttrack.fltplan.com/fltbrief/February2012/fltbriefvol1.htm#5.

---
FltPlan.com and Corporate Angel Network:
Helping you help others
It's now even simpler for pilots to notify Corporate Angel Network (CAN) of available flights. FltPlan.com users who are also registered with CAN will be able to easily send flight information right from their account without having to call or send a separate e-mail to CAN. Look for the
link on the left side of the Main Menu page. You can register online or send CAN your FltPlan.com username, if you are already a participant. If you or your company would like to become a 'Corporate Angel', click on the CAN link for information on how to register.

---
For Premium Flight Trackers:
If your aircraft was recently put on the Barr List, let us know
The March Barr List was just released, so if you're a Premium Flight Tracker with FltPlan.com and your aircraft is back on the blocked tail list, be sure to let us know. Even if you were using FltPlan.com to track your blocked tail number before the NBAA's BARR program was canceled, it's important to touch base with us so you can live track and continue getting your notifications.

Once you've submitted your paperwork to the FAA to block your tail number, please contact our office so that we can update our paperwork and reinstate your Premium Flight Tracking for those blocked tail numbers. You can send an email to Support@FltPlan.com. If you're not currently a Premium Flight Tracker but would like to be, we can help you with that, too. Premium Flight Tracking costs $14.95 a month and allows you to track up to 10 of your blocked tail numbers.

Don't be fooled by high priced flight tracking companies charging over $700/yr to track just one blocked aircraft. FltPlan.com provides the same service for just $14.95/month for up to 10 aircraft.

For more information on blocking your tail number or tracking your blocked tail number Click Here.

---
There's Still Time to Vote in the 2012 Pilots' Choice Awards

Let your opinion be heard. Voting for the 2012 Pilots' Choice Awards continues now through March 31, 2012. Go to www.FltPlan.com to cast your ballot. Categories include Best FBO, Best Tower location, Best ATC Center and more. The winners will be announced online in April.


---
FltPlan.com On Twitter
Follow us on Twitter for up-to-date information on busiest airports, most used aircraft, and more. www.twitter.com/FltPlan
---
Thanks for using FltPlan.com
all rights reserved © Copyright 1999-2012 by Flight Plan LLC