Newsletter - April 6th, 2012
---
April 24th: SMS Seminar Coming, Live and in Person, to the Northeast
FltPlan.com is still taking registrations for a free educational event. FltPlan.com will be hosting an SMS Informational Seminar in partnership with ACSF (Air Charter Safety Foundation). This is a live event, not a webinar. It will take place in Southbury, CT on Tuesday April 24th, 2012, starting promptly at 9 am and ending at 4 pm ET. This SMS Seminar will provide helpful information in regard to the development and implementation of your company's SMS Program. Representatives from Satcom Direct, Everest, and FltPlan.com will be on hand during the breaks for discussions. Registration is required to attend.

To register Click Here. Each attendee is required to register separately. After receiving the registration form and being qualified as an SMS participant, further details will be provided via email.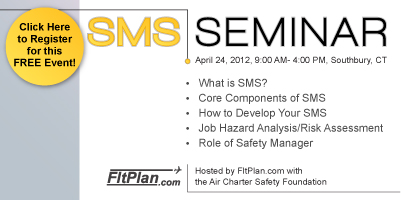 ---
ADVERTISEMENT
---
New Enhancement to our Flight Schedule Calendar
Now you can plan even farther in advance with our Calendar feature. Flight plans can be scheduled out 6 months in advance, and events can now be scheduled for a full year. Want to remember a maintenance event ten months down the road? Now it's possible.


---
New Edition Charts Available at FltPlan.com's Chart Store
If you're using paper charts for your flight operations, FltPlan.com can meet your needs and save you money. Check out our Chart Store at http://store.FltPlan.com for 20% off all FAA paper aeronautical products. Now's a great time to order, since many charts expired on April 5th and have been replaced by new editions.

The following charts were replaced by new editions on April 5th:

All Airport/ Facility Directories

All Terminal Procedures/ Approach Plates

All High Altitude Enroute Charts

All Low Altitude Enroute Charts

Sectionals:
Detriot Juneau Ketchikan Klamath Falls Lake Huron Memphis Salt Lake City

Terminal Area Charts:
Cleveland Detroit Memphis Pittsburgh Salt Lake City

World Aeronautical Charts:
CF-19 CJ-27

Please visit http://store.FltPlan.com to view our inventory and complete your order online. Please note that recurring subscriptions are also available to all of our products. Subscriptions apply to our paper charts only. If you have any questions or would like additional information, please call us at 203-262-9200 or email us at Store@FltPlan.com.

---
A Poorly Distributed Notam can Ruin Your Day
A recent notam put out by the FAA seemed like a kid's game of hide and seek. This is not a game pilots should have to play when it comes to Notams.

Below is a list of notams on 04/01/2012 for KTCL (Tuscaloosa Regional).

TCL 03/028 TCL RWY 11/29 CLSD WEF(effective from) 1203291300-1204021200
TCL 04/016 TCL RWY 11/29 NON-STANDARD INSTRUMENT RWY LGTS
TCL 04/015 TCL RWY 11/29 NON-STANDARD INSTRUMENT RWY MARKINGS
TCL 08/020 TCL OBST CRANE 384 (176 AGL) 3.5 ESE LGTD TIL 1207262359
TCL 03/033 TCL OBST TOWER 2675 (2000 AGL) 18.83 NE LGTS OTS (ASR 1035175) TIL 1204141526
TCL 03/018 TCL OBST TOWER 1020 (430 AGL) 14.49 ENE LGTS OTS (ASR 1019785) TIL 1204031602
TCL 03/024 TCL AIRSPACE SEE LDK 03/433 AEROBATIC AREA WEF 1203311500-1203312200
TCL 03/027 TCL AIRSPACE SEE LDK 03/445 AEROBATIC AREA WEF 1204011500-1204012200
TCL 03/032 TCL TWY K,J,H, CLSD WEF(effective from) 1203291300-1204021200
TCL 03/031 TCL TWY A BTN TWY M,C CLSD WEF(effective from) 1203291300-1204021200
TCL 03/030 TCL TWY G BTN TWY F, RWY 11 AER (Approach End of Runway) CLSD WEF 1203291300-1204021200
TCL 03/029 TCL TWY L BTN TWY J,RWY 11 AER (Approach End of Runway) CLSD WEF 1203291300-1204021200


Weeding through the notams, you probably don't see much of interest, except that runway 11/29 (and associated taxiways) will be closed for several days. (A longer, 6499 foot runway - 04/22 - was still available.)

But did you catch the notam that will put egg on your face with your passengers? It's hidden in notam TCL 03//024 and TCL 03/027. Even after you look at them a second time, you are probably scratching your head saying 'so what'. Well, the TCL 03/024 and TCL 03/027 say to go see another notam, that being LDK 03/433 and LDK 03/0445. But you say 'I'm not landing at LDK' (and actually there's no such airport called LDK- LDK is a VOR).

When you go look up the LDK notams, you will find that it says:
ANB 03/445 LDK AIRSPACE AEROBATIC AREA 15500/BLW 5 NMR LDK232004.6/TCL AVOIDANCE ADZD WEF(effective from) 1204011500-1204012200
ANB 03/433 LDK AIRSPACE AEROBATIC AREA 15500/BLW 5 NMR LDK232004.6/TCL AVOIDANCE ADZD WEF(effective from) 1203311500-1203312200

Even after taking the time to look at this, you still are unconcerned, maybe just some vectoring coming into KTCL. What the above Notams didn't say was that there was an FDC Notam in effect for a TFR at KTCL.

The TFR notam was for the airspace above KTCL, from the ground up to 15,500, but since the airport wasn't closed, it didn't show up in the notams for KTCL. Technically the airport was not closed (feel free to taxi around) but the airspace above the airport was closed, effectively closing the airport for flights. In that TFR (2/7585) it said that the KTCL airspace will be closed from 11am to 4pm. That's a gotcha!

For such an important piece of information, we feel a notam (it does stand for Notices to Airmen) should have been issued for KTCL saying that the airport will be closed for flights. This should not be a game of stump the pilot. In reality, on these particular days, some aircraft were caught off guard and were unable to land or depart because of this stealth notam.

In talking with the FAA on this issue, their position was quite simple. Pilots are responsible for reading all FDC notams. The Notam for KTCL airspace was indeed in the FDC Notams for the previous 8 days. Case closed.

FltPlan.com tries to help when we know about a TFR that affects an airport.
1.) If there is a TFR for an airport, we will highlight the TFR in red in the notams section of your weather briefing.
2.) For many TFRs, we will put a notice next to your flight plan on the Active Flight Plan List.
3.) We display TFRs and SUAs on the enroute charts (sectionals and Low & High Altitude Charts) with a link to more information.

In the KTCL case, a surprise for a pilot could have been avoided by checking our online enroute charts for TFRs. (See below) AND reading all of the FDC Notams. We also provide a link to the FAA's TFR web pages labeled: TFR Flight Restrictions



Click to View



Better yet, the FAA should consider the 'real world'. If an airport will be closed (or the airspace above it) because of a TFR, issue an airport closure Notam for that airport for the applicable times.

When it comes to Notams it shouldn't be a game of hide and seek.
---
New iPad Version 3.0 now available.
FltPlan.com continues to make improvements to our iPad / iPhone App. We have just added an upgrade that lets you go from one section to another, then return to the original section.

The various sections on our App include Maps & Routes, NavLog & WX, Approach Charts, A/FD (Airport Facility Directory), FltDeck Guide, and our new Scratch Pad+.

With this new upgrade, you can go from your zoomed in location on the High Altitude Chart, to your last viewed Weather Briefing, to the arrival airports approach chart. You can also check your alternate airport FltDeck Guide page to look up FBOs and highlight your planned route on the Arrival Airport's STAR using the Scratch Pad+ screen.

FltPlan.com iPad App blends with your online flight planning (and your Android smartphone) to give complete access to the flight planning information you need.

Coming May 1st: Edit your flight plan routes, or enter a new route directly on your iPad while offline/online.


---
FltPlan.com On Twitter
Follow us on Twitter for up-to-date information on busiest airports, most used aircraft, and more. www.twitter.com/FltPlan
---
Thanks for using FltPlan.com
all rights reserved © Copyright 1999-2012 by Flight Plan LLC